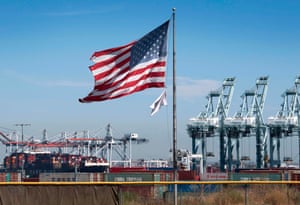 Good morning, and welcome to our rolling coverage of the world economy, the financial markets, the eurozone and business.
Hopes of a breakthrough in the US-China trade war are fading, even before the two side sit down for their latest attempt to resolve a dispute that is hurting the world economy badly.
Relations between the two countries appear to be deteriorating, with America imposing fresh curbs on Chinese companies — and Beijing threatening to hit back.
China's vice-premier, Liu He, is leading a delegation of major economic officials for a new round of high-stakes trade talks with US counterparts in Washington on Thursday and Friday.
But those talks are being overshadowed by America's decision to blacklist Chinese technology companies from buying US-made goods, over alleged human rights abuses against Muslim groups.
The US has also imposed visa restrictions on Chinese government and Communist party officials over their actions in the Xinjiang region, where more than a million Uighur people have been detained in camps.
Secretary of State Mike Pompeo declared that China must end its "draconian surveillance and repression", saying:



"The United States calls on the People's Republic of China to immediately end its campaign of repression in Xinjiang, release all those arbitrarily detained, and cease efforts to coerce members of Chinese Muslim minority groups residing abroad to return to China to face an uncertain fate.
China's commerce ministry has swiftly hit back, telling Washington to drop its sanctions and stop making "irresponsible remarks".
It also threatened to take "necessary measures" to protect Chinese interests; a warning that US companies could face reciprocal sanctions?
Even America's basketball players and cartoonist have been dragged into the spat. Chinese broadcasters are refusing to show Houston Rockets games after a team executive tweeted support for Hong Kong protesters, while South Park is being censored following an episode making fun of, er, Chinese censorship.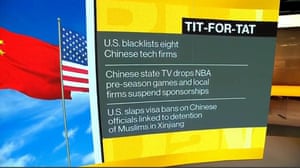 The atmosphere is hardly conducive for a breakthrough that could see tariffs lifted. Chinese media have even suggested that Liu He's delegation could return from Washington a day early! Not encouraging.
So, understandably, Wall Street fell yesterday, with the Dow and the S&P 500 both losing over 1%.
Jim Reid of Deutsche Bank adds:



Trade-sensitive stocks were hit hardest, with the NASDAQ down -1.67% while the Philadelphia semiconductor index fell -3.12% (its worst day since August and down to a one-month low.
Also coming up
We may get fresh insights into the chances of another US interest rate cut today. America's top central banker, Jerome Powell, is speaking in Kansas City at an "Ask the Fed" event.
Yesterday Powell revealed that the Fed will restart buying US government bonds, in an attempt to prevent liquidity drying up in the markets. He insisted this wasn't a new QE-style stimulus scheme,
As Rob Carnell of ING writes:



What is interesting is just how vociferously Powell mentioned that this wasn't QE, saying

"I want to emphasis that growth of our balance sheet for reserve purposes should in no way be confused with the large-scale asset purchase programs that we deployed after the financial crisis. In no sense is this QE", Powell added.

It is though, isn't it?…
The Federal Reserve will also release the minutes of last month's meeting, when it cut interest rates for the second time this year.
Plus, the latest JOLTS report on job vacancies may also show whether American companies are cutting back on hiring.
The agenda
3pm BST: US JOLTS report on job vacancies
3.30pm BST: Federal Reserve chairman Jerome Powell takes part in a "Fed Listens" event in Kansas City
7pm BST: Minutes of the September Federal Reserve's FOMC meeting released
Source link